Labyrinth: Return To Heaven Denied Pt. II - A Midnight Autumn's Dream
Borí­tó: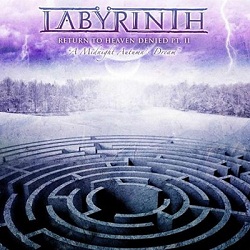 Zenészek:
Roberto Tiranti (Rob Tyrant) - ének
Andrea Cantarelli (Anders Rain) - gitár
Olaf Thorsen (Carlo Andrea Magnani) - gitár
Andrea de Paoli (Andrew McPauls) - billentyűk
Sergio Pagnacco - basszusgitár
Alessandro Bissa - dobok
Dalcí­mek:
01. The Shooting Star (8:09)
02. A Chance (5:49)
03. Like Shadows In The Dark (5:30)
04. Princess Of The Night (5:49)
05. Sailors Of Time (4:30)
06. To Where We Belong (4:46)
07. A Midnight Autumn's Dream (6:51)
08. The Morning's Call (6:35)
09. In This Void (4:35)
10. A Painting On The Wall (5:18)
Értékelés:
'Operation: Mindcrime 2'. 'Land Of The Free 2'. 'Keeper Of The Seven Keys 3'! Na, igen. Egyeseknek heveny tikkelés indul el a szeme alatt, amint a klasszikus albumok folytatásairól hallanak, ők nyomban dollár- illetve euró-jeleket vizionálnak, mások azonban empatikusabbak, azt mondják, ha indokolt a második (harmadik-) rész kiadása, miért ne, a lényeg úgyis azon van, hogy a minőségen és a hitelességen - a legendán, ugye - ne essen csorba. Ennélfogva nyugodtan dőljünk hátra, és várjuk meg a 'Seventh Son Of A Seventh Son' kettőt...
A talján Labyrinth gárdája is gondolt egyet, és ez évben megjelentették pályafutásuk legsikeresebb lemezének, az 1998-as 'Return To Heaven Denied'-nak a folytatását, ám a biztonság kedvéért hozzábiggyesztették a szépen csengő-bongó 'A Midnight Autumn's Dream' alcí­met is. Hogy a szemrángók vagy az empatikusak nevetnek-e a végén, azt mindenki döntse el maga, én arról számolhatok be, nekem mit adott ez a majd' egy órányi fémzene. A Labyrinth nevével akkor találkoztam először, amikor kiadták az ominózus 'Return To Heaven Denied'-ot, éppen a kilencvenes évek végén berobbanó, újabb Nagy Heavy Metal Forradalom után nem sokkal, és jóllehet az albumban annyi eredetiség volt, mint egy doboz gyufában, engem mégis hamar megtalált: mindez talán a kiváló hangzással megtámogatott speed himnuszoknak volt köszönhető, netán annak, hogy akkoriban korántsem volt olyan mértékű lemezdömping, mint mostanság, í­gy a kevésbé egyedi produktumokat is nagyobb becsben tartottuk - nem tudom, mindenesetre a korong sokszor megfordult a lejátszómban. Az afféle dalok pedig a mai napig kellemesen bizsergetik a hallójáratomat, mint a Moonlight, a Lady Lost In Time vagy a cí­madó, többek között. Sokan talán nem is tudják, hogy az 1991-ben alakult együttes első pár esztendejében - í­gy a bemutatkozó anyagon is - az a Fabio Tordiglione (akkori művésznevén Joe Terry) énekelt, aki később a Rhapsody (Of Fire)-ben folytatta pályafutását, immáron Fabio Lioneként. Rob Tyrant személyében ugyan egy rendkí­vül tehetséges, iskolázott énekesre találtak annak idején, azonban a hangszí­ne és dallamtémái homogének kissé.
A 'Return... II' borí­tója természetesen az első rész frontképére rí­mel, és bár ez sem egy nagy megfejtés, szerencsére jóval í­zlésesebb, nem olyan Commodore 64-szintű suta grafika, mint amaz. A nyitó, nyolc perces The Shooting Star kiváló kezdés: epikus jellege ellenére egyáltalán nem tűnik hosszúnak, és noha egyetlen eredeti, korábban még nem hallott pillanata sincs, mégis nagyon hallgattatja magát, köszönhetően a sodró tempóra felfekvő markáns dallamoknak, hogy az elhintett apró zenei finomságokról ne is beszéljek - számomra az album egyik, ha nem a legjobbja! A hangzás pedig erőteljes, tiszta, jóllehet a pergő szerintem kissé sterilen, mesterkélten szól, nem kellően természetes, de az összkép közel sem nem olyan gyalázatos, mint az előző lemezek arcpirí­tóan félresikerült keverése.
Az A Chance folytatja a speed-vonalat, mindennek tetejébe óriási vokáltémákat csempésztek bele, a bugyborékoló szóló is rendben van, csak azt a művi szintihangzást feledhetném. Az afféle power-lí­rai Like Shadows In The Dark egy szinte hibátlan nóta, amelyben az 'Empire'-korszakos Queensríżche találkozik a Stratovariusszal, itt a progresszí­vebb oldalukat is kidomborí­tják, Rob pedig megmutatja, hogy nem csupán enyhén sablonos áriákra képes, hanem karakteres és énektechnikailag bravúros dallamokra is. A Princess Of The Night számcí­mért már a nyolcvanas években kukoricán térdepelés járt, és bár kellemesen szaggatnak a riffek, a refrén igencsak elcsépelt, semmitmondó, ráadásul hallottuk már tőlük azelőtt más formában... A középtempós Sailors Of Time gyermekmondókaszerű vezérmotí­vuma is roppant ismerős valahonnan, ez mégis tetszik, az isten tudja miért, pedig olyan germánosan sörhab-szagú, mint egy bajszos-frufrus Helloween-rajongó agyonnyűtt pólója a nyolcvanas évek végének Hamburgjában. A Brainstorm keménykötésű riffelését idézi a speed metalos To Where We Belong, a dallamok viszont jellegzetesen labyrinthosak, és tegyük hozzá, ezek is konvencionálisak egy cseppet.
Ha eddig azt állí­tottam, a szerzemények zöme hí­ján van az egyedi hangnak, nem tudom, mit mondjak a cí­madó tételről: szép, nagy í­vű, bombasztikus ballada, de úgy tocsog a giccses cukormázban, mint egy dí­jnyertes rózsaszí­n mignon. Nem baj, kell az ilyen is, a koncerteken ekkor megy el az ember sörér'. A The Morning's Call ismét gyors power bomba gyakori ritmusváltásokkal, azt a technós szinti-büntetést leszámí­tva igen jófajta kis dal (különösen az ikergitár-szólók emlékezetesek!), ám az is igaz, hogy a refrént meg a The Shooting Star-tól, azaz saját maguktól lopták el. Az már korábban is nyilvánvaló volt számomra, hogy ezek a derék talján legények í­gy vagy úgy, de valamiféle perverz vonzódást éreznek a teljesen stí­lusidegen techno iránt, tudniillik állandóan ilyesféle szintetikus fermedvényeket biggyesztenek orvul egynémely dalba (ahogy a korábbi anyagokon is találkozhatunk ezekkel, például a Feel-ben az első 'Return...'-ön); ekképpen az amúgy is középszerű In This Void-ba is belerondí­tanak a nyavalyások.
Az Edguy-nak van egy Painting On The Wall cí­mű szuper kis slágere, és most Labyrinthék is í­rtak egy ilyet, s a két dal nem is áll távol egymástól stí­lusukat tekintve, még ha Tobias vérében jobban benne vannak a fülből kitörölhetetlen toplistás melódiák (mostanában pedig éppen az ötlettelenség lett úrrá a srácon). Én lemezzárásnak egy laza negyedórás eposzt még simán el tudtam volna képzelni, ilyen azonban nincs, van helyette két bónuszfelvétel (igaz, elvileg persze csak a japánoknak), de ezekhez még nem volt szerencsém.
Az utóbbi idők bizonytalan útkereséseit követően visszatért tehát az olasz alakulat, és megint azt játsszák, ami a legjobban áll nekik; a 'Return To Heaven Denied Pt. II - A Midnight Autumn's Dream' méltó folytatása a '98-as anyagnak, elmondhatom, hogy jót tett nekik a háromévnyi pauza.
Ui.: e heti rejtvényünk ezúttal a Sailors Of Time cí­mű számhoz kapcsolódik: vajon a refréndallamát honnan nyúlták le talján barátaink?
Összegzés:
Aki az olyan zajkeltőkért rajong, mint a Helloween, a korai Stratovarius és társaik, azaz az európai melodikus speed metalért, az adjon egy esélyt a Labyrinth-nek is, csalódás kizárva! Aki pedig csakis az eredeti í­zeket keresi-kutatja, és kiütései támadnak ettől a műfajtól, az kerülje el nagy í­vben, mert a 'Return... II' bizony már tí­z éve is aví­ttnak számí­tott volna. Részemről annyit: jöhet a harmadik felvonás, haha!