Kalapács: Poklok és mennyek között
Borí­tó: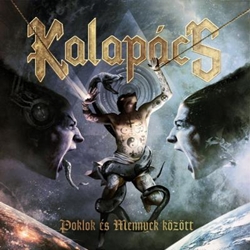 Zenészek:
Kalapács József - ének
Weisz László - gitár
Sárközi Lajos - gitár
Beloberk István - basszusgitár
Beloberk Zsolt - dobok
Dalcí­mek:
01. A zene a mi templomunk
02. Nem lehetek eladó
03. A vándor
04. Hitem
05. Terápia
06. Ami igazán mélyről fakad
07. Tied az ajándék
08. Adrenalin kví­z
09. Poklok és mennyek között
10. Szabadabb szélben
11. Félszáz év
12. Kell az árnyék és kell a fény
Értékelés:
Kalapács Józsi számomra az az előadó, akinek szinte soha nem teszem be az aktuális munkásságát a lejátszóba, viszont élőben mindig pótlom ezeket a hiányosságaimat. A 'Poklok és mennyek között' albummal sem volt ez másként, először a Malomvölgyben hallottam egy-két új dalt, és úgy gondoltam, hogy "Ez igen!", kijött egy pofás Kalapács album, immáron a nyolcadik. Aztán ahogy egyre többször elővettem, úgy vált kissé unalmassá a korong, s noha egyáltalán nem gondolom félresikerült alkotásnak, a kiemelkedőtől azért távolra került. Hogy ennek mi az oka? Megpróbálok rájönni a lemezismertető során.
Ha 2002-re datáljuk az első Kalapács lemezt, és kivesszük a kalapból 'Az első merénylet'-et (az ugyanis az Ossianosok, vagyis Rubcsics Ricsi és Hornyák Peti közreműködésével készült), akkor is megállapíthatjuk, hogy tíz év alatt hét lemeze jelent meg a zenekarnak. Noha a legutóbbi album, az 'Apokalipszis' óta majdnem három év telt el, mégis úgy érzem, hogy a Kalapács is Ossian szindrómában kezd szenvedni. Ráadásul rendszeresen 12-13 dal kerül fel a Kalapács korongokra, amit szintén kicsit soknak tartok. Persze ők a zenészek, ők érzik, de egy-egy fáradtabb téma után úgy gondolom, hogy megérné ülni még a dalokon, vagy erőteljesebben szanálni, és egy albumon teszem azt, kerek tízet kihozni. A dalokkal egyenként nincs gond, sőt, van egy-két kiemelendő alkotás, de elég hasonszőrűek, és 49 perc ebből már egy kicsit sok. Nincs meglepetés, nincs váratlan fordulat, csak a tradicionális, kőkemény heavy metal zakatol.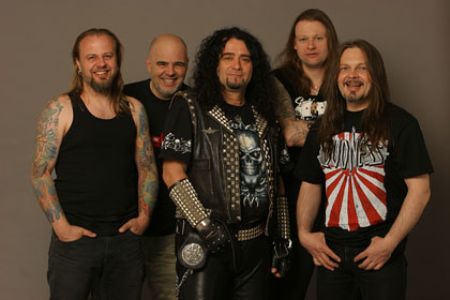 Ez koncerteken teljesen máshogy jön ki (mindenki tudja, hogy egy jól sikerült fellépés során felértékelődnek még a szürkébb dalok is), és külön üdvözölendő, hogy a csapat immáron tíz éve változatlan felállásban nyomja a heavy metalt. Más kérdés, hogy ezzel a heavy metal, akarom mondani rock and roll dologgal is sokszor tele a padlás. Kicsit mindig más ugyan a köntös, de a lényeg változatlan, és továbbra is ömlenek a csapból a kissé klisés szövegek – a Terápia "Rock and Roll doktor ma éppen rendel" soránál hosszú másodpercekig nyomogattam a szemeimet, mert nem akartam elhinni, hogy ez tényleg megtörténik. Már csak a szövegek csiszolása miatt megérné szerintem lassítani kicsit a tempón. Nem akarok mást bálványozni egy Kalapács albumismertetőben, de ha már elég erőteljes kapcsolódási pontok vannak (basszeros és dobos téren), akkor az EGO Projectet említeném meg ellenpéldaként: szövegeik aktuálisak, kritikusak és igényesek, talán ebből kifolyólag fejben megragadóak (ami nem tetszik, vagy túl klisés, arra azért nehezebben áll rá az agyad).
No, akkor azt javaslom, hogy tegyük félre a negatívumokat, mert a 'Poklok és mennyek között'-nek azért vannak előnyös tulajdonságai is. Az egyik ilyen a dög hangzás, néhol szinte magam előtt látom Sárközi Lajos és Weisz Kicsi kezeinek zakatolását. Az albumnak amúgy is van egy amolyan élő íze, szinte megmozdul, miközben hallgatod, látod, ahogy mozognak a zenészek, ahogy megremeg a gitár nyaka az előbb említett úriemberek kezében. A szólórészek különösen tetszenek, A vándorban például egy gyönyörű, tisztán visító szólót hallhatunk, amely tökéletesen illeszkedik az őt követő refrénbe. Ilyenkor érzi azt az ember, hogy a heavy metalnak valami ilyesmiről kell szólnia (hangszerileg persze, hangszerileg…). Egyébként ilyen téren az előbb a szövege miatt cikizett Terápia is bejött, elsősorban lendületességével és gyors, technikás gitárszólójával. Ami pedig Józsit illeti: hangja még most is összetéveszthetetlen és libabőrt okozó, még akkor is, mintha kicsit veszített volna erejéből. Talán nem kapnunk annyi fogós refrént vagy verzétémát, mint megszokhattuk tőle, de azért vannak dalok, amelyek ezen a téren is kárpótolnak (Félszáz év, Ami igazán mélyről fakad). Btw. jó a borító, csak a baloldali nyelves figura mintha a Savage Messiah 'Plague of Conscience'-ének fedlapjáról lett volna lenyúlva…
Összegzés:
A fáradtság jelei mutatkoznak a Kalapácson? Talán. Szerintem a 'Poklok és mennyek között' nem ugorja át a zenekar saját maga által felállított lécét, mindezek ellenére egy korrekt, egyenes heavy metal albumot kapunk. Itt nincs mellébeszélés, nincs útkeresés, nincs szembefordulás. Noha a dalszövegek terén jól jönne már egy kis vérátömlesztés, úgy gondolom, hogy csalódásról semmiképp sem beszélhetünk.