Blaze Bayley: The King of Metal
Borí­tó: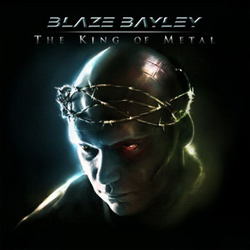 Weblap:
http://www.blazebayley.net/
Zenészek:
Blaze Bayley - ének
Thomas Zwijsen - gitár
Andrea Neri - gitár
Lehmann (Matteo Grazzini) - basszusgitár
Claudion Tirincanti - dob
Vendégzenészek:
Rick Plester - gitár
Daan Willem Dragt - zongora
Tineke Roseboom - vokál
Dalcí­mek:
01. The King Of Metal
02. Dimebag
03. The Black Country
04. The Rainbow Fades to Black
05. Fate
06. One More Step
07. Fighter
08. Judge Me
09. Difficult
10. Beginning
Értékelés:
Blaze Bayley egy igazi, mindent túlélő metal arc, aki oly sok nehézségen ment keresztül, mind magánéletében, mind pályafutása során, hogy az a legtöbb embert padlóra küldte volna egy életre, de ő minden alkalommal talpra ált. 1995 és 2000 között az Iron Maiden énekeseként kapott hideget-meleget a kritikusoktól és a Maiden fanatikusoktól egyaránt, majd szólókarrierje kezdetén sokan tovább ócsárolták műveit, mondván azok csupán másodvonalas metal kiadványok, amik nem érdemelnek figyelmet. Aztán a 2008-ban megjelent 'The Man Who Would Not Die' és az azt követő 2010-es 'Promise And Terror' elhallgattatta a köpködőket, ugyanis ezeken a lemezeken Blaze megmutatta, hogy nem csak kemény fából faragták, de képes önállóan maradandót és nagyot alkotni.
A tavalyi év folyamán Bayley megvált a 2007 óta vele zenélő társaktól, és egy teljesen új felállással kezdte meg a 'The King of Metal' munkálatait. Úgy érzem, ez a nagy jövés-menés nem vált a lemez javára, sőt, pont ellenkezőleg. Először a gyenge hangzás üti meg az ember fülét, aztán hosszabb ismerkedést követően előtűnnek az új dalok egyéb hiányosságai is. Túl sokszor hallhatunk ezerszer eljátszott heavy metal kliséket, többször találkozhatunk "maidenes megoldásokkal", galoppozós ritmusok, ikergitárszólók és ismerősen csengő dallamok képében. Lehet, hogy a társszerzőként is feltüntetett fiatal holland gitáros, Thomas Zwijsen nem a legmegfelelőbb partner Bayley számára, nem tudom, de az biztos, hogy ennél sokkal jobb teljesítményt is hallhattunk már tőle, pedig ez sem egy fércmű. Ugyan az elődei fényében kissé halványabban csillog ez a 10 dal, de azért jutott ide is jó néhány felejthetetlen pillanat.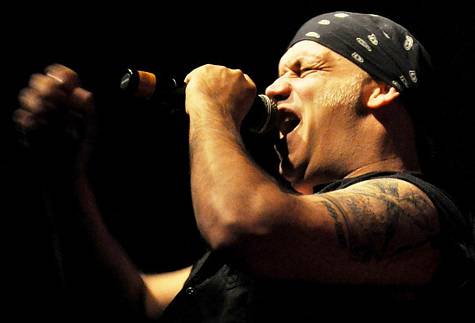 Talán nem mindenki ért velem egyet, de szerintem Blaze egyszerű és közérthető szövegei nagyszerűek, és pont. Éppen azért, mert nem kell hozzá sem agysebésznek, sem irodalomprofesszornak lenni, hogy megfejthesse az ember, mi is rejtőzik a sorok között. Itt nincsenek végtelen metaforák, sem értelmezhetetlen szimbólumok, vannak viszont igaz és őszinte gondolatok, amelyek mindenkihez szólnak az utcaseprőtől az űrhajósig. Külön érdemes szót ejteni a Dimebag Darrell tragikus végső koncertjét felidéző dalról (Dimebag), ami nem csak egy szép gesztus Blaze-től, de az egyik legjobb szerzemény is a lemezen. Hasonlóképpen hátborzongató a zongorakísérettel előadott, végtelenül egyszerű, magasztos One More Step. Ellenállhatatlanul árad a fájdalom és az erő ebből a drámai balladából, irgalmatlan szenvedéllyel dalol Bayley, minden sorában benn van teljes szíve és lelke.
Bizony hullámzó a színvonal, találhatunk kevésbé eltalált darabokat is, például a nehézkes, fáradt, sápadt akusztikus Beginning-et az album végén, de ahogy utaltam már rá, egészen bámulatos nóták is születtek, mint a harapós és kísérteties Judge Me, ami akár a kiváló 'Promise and Terror' dalaival is felveszi a versenyt. Olyan problémák vannak ezzel a lemezzel, mint az új Wolfsbane (Blaze eredeti együttese) albummal: néhány nóta bizony laposra sikeredett, így a pontszám sem lehet magas, bármennyire is szeretem Bayley korábbi műveit.
Összegzés:
Blaze Bayley még mindig az egyik legőszintébb zeneszerző/énekes a metal színtéren, és a 'The King of Metal' sem egy csalódás, csak elmarad az elődei színvonalától. Könnyű a számítógép mellett okoskodni, de talán az lenne a megoldás Blaze számára, ha Ozzy Osbourne példáját követve találna magának egy igazán zseniális gitáros/dalszerzőt, olyat, mint Randy Rhoads volt, vagy amilyen Zakk Wylde, egy olyan valakit, aki ki tudja hozni a maximumot a rendkívüli adottságokkal megáldott énekesből.