Anthrax: Worship Music
Borí­tó: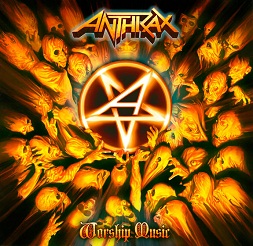 Weblap:
heavy/thrash metal, metalcore
Zenészek:
Scott Ian - rhythm guitars, lead guitar, backing vocals (1981-present)
Charlie Benante - drums, percussion (1983-present)
Joey Belladonna - lead vocals (1984-1992, 2005-2007, 2010-present)
Frank Bello - bass, backing vocals (1984-2004, 2005-present)
Rob Caggiano - lead guitars, rhythm guitar (2001-2005, 2007-present)
Dalcí­mek:
1. "Worship" (Intro) 1:41
2. "Earth on Hell" 3:11
3. "The Devil You Know" 4:46
4. "Fight 'Em 'Til You Can't" 5:48
5. "I'm Alive" 5:37
6. "Hymn 1" 0:38
7. "In the End" 6:46
8. "The Giant" 3:47
9. "Hymn 2" 0:44
10. "Judas Priest" 6:24
11. "Crawl" 5:29
12. "The Constant" 5:01
13. "Revolution Screams" (& hidden track "New Noise" (Refused cover)) 15:54
Értékelés:
Slayer, Metallica, Megadeth. Ez eddig rendben is lenne. Azon viszont már el lehet elmélkedni, hogy miért éppen az Anthrax kapaszkodott fel negyediknek a kiemeltek közé az első ligába, hiszen lenne náluk erre méltóbb is talán. Mondjuk az Exodus – Overkill – Testament hármas is tett le alapműveket az asztalra, alkalmasint jobb hangzással, kevésbé hullámzó teljesítménnyel és botrányoktól, zűrös tagcseréktől mentesen.
Jómagam ezt két tényezőnek tulajdonítom: egyrészt mindig is náluk volt a legjobb énekes. Mind Belladonna, mind Bush igen jó képességű, itt nem az egyik zenészből lett önjelölt, botcsinálta kényszerdalnok. Sőt, nem is bömbölnek úgy, mint a bölény, és idegesítő ráspoly sincs a hangszálaik közé rejtve. Szerintem a 'Spreading The Disease' a maga eklektikájával (heavy metal – US power – thrash keverék) és fogós dallamosságával sokak számára volt a belépőlemez a szikárabb riffek világába, amely kézen fogva vezette át őket a tradicionális NWOBHM-ből az amerikai powerbe és az éppen akkor éledező thrash metalba.
A másik: mondhatjuk nyugodtan, hogy ők voltak a legkísérletezőbbek, ez a banda tárta legszélesebbre a műfaj kapuját. Nem voltak például restek modernizálni és a grunge érához igazítani a hangzásukat a '90-es években, de a rap metal úttörői között is megemlíthetjük őket. Lehet, hogy Európában ez akkoriban nem volt annyira menő, de a tengerentúlon bizony a Red Hot Chili-kompatibilis rövidgatyós-gördeszkás imidzsük, az együttműködés a Public Enemy-vel, vagy a Beasty Boys feldolgozás bizony a tinihálószobák falára fújta az Anthrax posztereket (lásd, amikor szétzúzzák Al Bundy nappaliját, amely egyébként egy megtörtént esetet dolgoz fel). Azaz, paradox módon, a Slayerrel ellentétben (akik éppen annak köszönhetik töretlen sikerüket, hogy nehéz időkben is makacsul ragaszkodtak a kitaposott úthoz), a thrash metal Helloweenjei a zenei nyitottságukkal, kísérletezőkedvükkel szakítottak, azzal, hogy sosem vették teljesen komolyan magukat.
Nem mennék most bele a Belladonna – Nelson – Bush sztoriba újra, úgyis tudja mindenki a tutit, és őszintén szólva, nem is érdekel már szerintem senkit, egészen addig, amíg a csapat teljesítménye megfelelő. Annyiban érdemes csak említésre a 2005-ös pénztárcatömögető "Among The Living" reunion, hogy az ember fia azt gondolná, ha már érdemes volt a színtér egyik legjobb énekesét e miatt kukázni, és megtörni a remekül sikerült 'We've Come For You All" lendületét, akkor a nagy keservesen összeszenvedett lemez hat év múlva majd biztosan visszakanyarodik az 'Among.. – State… - Persistence…' fémjelezte belladonnás korszakhoz, hiszen ez volt a zenekar fénykora is egyben. Nos, egyáltalán nem így lett.
A 'Workship Music' ugyanis jóval inkább a Bush-éra szerves folytatása, mintsem a három előbb említett thrash gigászé. Mintha a 'Sound Of White Noise' és a 'We've Come..' arculatát gyúrták volna egybe, Belladonna orgánuma és a gyakori vendégnek mondható dallamosság miatt pedig időnként a 'Spreading..' világa is beugrik nekem, de semmiképpen sem a klasszikus triászt jelölném meg igazodási pontként. Helyenként (pl. Crawl) szorosabb rokonságban van a groove-osan kemény Soundgardennel és a mai modern, szaggatott gitártémákra épülő, amerikai hard rockkal (Disturbed, meg ilyenek), mint a csattogó lábdobok és a szélvészgyors riffek múltba révedő hangzásával. Egy kis Trivium is befigyel imitt-amott, szóval mindent beleadtak a fiúk, hogy friss legyen a sound, néha az az érzésem, a védjegyszerű anthraxes csapkodást is már csak azért erőltetik bele a számokba, hogy mégis neve legyen a gyereknek.
Ugyanakkor, az első hallgatás bágyadt csalatkozása után viszonylag gyorsan mosolyra fakad a lefittyed száj – jogos, miért is vártam teljes hátraarcot, pont tőlük? Sosem voltak a kiszámíthatóság példaképei, és végül is 2011-et írunk… Tökös lemez ez, ha túlteszed magad a hamis elvárásokon, kellően tufa, de húzós-dallamos is, pont ilyen kell a mai tiniknek odaát. Európában és Japánban pedig nyitottak a rajongók, ha jó a zene, úgyis befogadják majd. Márpedig ez jó! Zsír profi. A hangzás például…, komolyan mondom, ha lenne hangmérnökök számára kiírt Oscar díj, ezt a korongot jelölném azon nyomban. A számok is rendben vannak, zúznak bennük nagyokat, dúdolható refrénjük is van, miegymás. Joey amúgy nagyon jól énekel, középtartományokban maradva, félúton Bush és korábbi önmaga között, még némi szőrt is növesztett a hangszálaira, ami koncerten jól jön majd, amikor elődje témáit kell nyomnia. És mégis…, valami hiányzik innen. Egy csöpp mágia, azt hiszem. Az együtt zenélés öröme. Spontaneitás. Vagy legalább ezek illúziója. Sokan fognak év albumát kiáltani, nekik már az is elég, hogy megjelent végre a korong, sőt, dögös is lett tulajdonképpen, de én akkor is kiszámított, vérprofi biztonsági játékot hallok itt leginkább. Persze lehet, hogy az elvárásaim voltak irreálisak, de valahogy nem tudtam elképzelni, hogy egy belladonnás (!) Anthrax lemezen olyan full grunge számot hallok majd, mint mondjuk a Crawl, vagy hogy a beharangozó szerint a Judas Priest tiszteletére írt és elnevezett szám jóval inkább a Pantera előtti főhajtás lesz. Amúgy éppen ennél a két számnál ül le egy kicsit az addig szinte hibátlan lemez.
Egy biztos, az Anthrax nem feküdt rá az éppen felkapott retro-hullámra, hanem továbbra is a saját útjukat járva bővítik a rajongótáborukat, bebetonozva ezzel magukat az élbolyban, és feledtetve valamelyest az éveken át húzódó szappanoperát. Arra azért kíváncsi lennék, akkor is így szólna-e a korong, ha eredetileg nem Bush és Nelson hangjára írják meg a számokat, és ha nem Joey B. igazította volna hozzá az énekstílusát a meglévő anyaghoz, hanem fordítva...
Még thrash:
Annihilator: Annihilator
Overkill: Ironbound
Forbidden: Omega Wave
Flotsam and Jetsam: The Cold
Összegzés:
Az ugyan rejtély, miért kellett éppen Belladonna egy, a Bush-korszak zenéjét nyílegyenesen folytató produkcióhoz, de tény, hogy egy piszok jól megdörrenő, tökös modern rock lemez született Scott Ian és Charlie Benante műhelyében. Ha TÉNYLEG szereted a '90-es évek groove-val, sludge-al átitatott metal lemezeit, és nem csak amolyan "ha nincs ló, jó a szamár is" alapon hallgattad őket, akkor ez itt a te zenéd! Azok viszont, akik – hozzám hasonló naivsággal – egyfajta visszakanyarodást vártak a '80-as évek végének klasszikus Anthrax hangzásához, nem lesznek maradéktalanul elégedettek ezzel a tengerentúli ízlésre hangolt zúzdával – mégoly minőségi legyen is az! Legalábbis azt hiszem.