Freedom Call: Beyond
Borí­tó: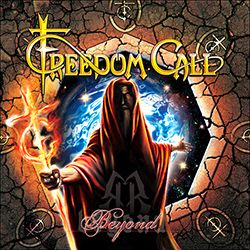 Weblap:
http://www.freedom-call.net
Zenészek:
Chris Bay - ének, gitár
Lars Rettkowitz - gitár
Ilker Ersin - basszusgitár
Ramy Ali - dob
Dalcí­mek:
01. Union of the Strong
02. Knights of Taragon
03. Heart of a Warrior
04. Come On Home
05. Beyond
06. Among the Shadows
07. Edge of the Ocean
08. Journey Into Wonderland
09. In the Rythm of Light
10. Dance off the Devil
11. Paladin
12. Follow Your Heart
13. Colours of Freedom
14. Beyond Eternity
Értékelés:
Érdekes, hogy egyes zenekarok pályafutása mennyire hasonlóan alakul. Amennyire egyszerre, gombamód özönlötték el az európai jellegű power metal csapatok a színteret '97 környékén, kiadva a mai napig legmeghatározóbb, legjobb lemezeiket a szélvész tempókat és általában a vidám vagy épp harcias imidzset meglovagoló fiatal muzsikusok, nagyjából ugyanannyira egyszerre jutottak el ahhoz a fordulóponthoz is 2005-2006 környékén, hogy vagy feloszoljanak, vagy elkezdjenek kísérletezgetni, megpróbáljanak utat találni maguknak egy kissé másfajta stílusban, zenei közegben. Gondoljunk csak az Edguy, a Sonata Arctica, vagy épp a Freedom Call elmúlt néhány lemezére. Persze ez azért érthető, nemcsak a rockzenészek, hanem minden ember személyisége, stílusa, érzelemvilága változik 10-20 év alatt, persze más kérdés, hogy ezeket a változásokat a fanatikus rajongók már nem biztos, hogy igazán örömmel fogadják. A Freedom Call esetében például a formáció első három korongja abszolút kedvenc, igazi power metal slágergyűjtemények, amelyeket még sok-sok év távlatából is jólesik hallgatni. Az utánuk érkező 'Circle/Dimensions/Shadowking' trió aztán már jóval kevésbé tudta belopni magát a rajongók szívébe, bár azért egy-két nagy slágert azért ezekre is elcsepegtettek a germán mosolybajnokok. A 'Land Of The Crimson Dawn' viszont a maga hibái ellenére is sejtetni merte, hogy Bayék kezdenek rátalálni a helyes útra, és azt kell mondjam, hogy eme tendenciának a 'Beyond' a beteljesedése.
Érzésem szerint a 14 dalos korongot el lehet különíteni két részre. Az első hét nóta egy direkt – és örömteli – visszakanyarodás a csapat korai érájához, igazából egy zseniális esszenciája annak, amire már évek óta vártam tőlük Freedom Call rajongóként. A Union of the Strong szélvész tempója és melodikus, együtténeklős kórusa azonnal visszarepít minket az oly csodás 'Eternity' korszakba, az ember szíve szerint százszor is meghallgatná a slágeres nyitányt egymás után. De ne tegye, mert a folytatás sem rosszabb, a Knights of Taragon. Vagy a Heart of a Warrior ugyanazt a vonalat és stílust követik, mint a címadó, és amikor azt hinnéd, hogy ennél jobb ez az egész már nem lehet, akkor jön a sluszpoén! Az epikus címadó Beyond, mely talán banda történetének legjobb dala. Hosszú, komplex, epikus, mégis gyors és melodikus, nagyon ügyesen találták el benne az arányokat úgy Bayék, hogy monumentalitása ellenére is húzónóta maradhasson koncerteken. Kiváló!
Muszáj még megemlíteni a happy metal himnusz Come On Home-ot is, mely noha kissé inkább a Perfect Day, Hero On Video típusó ugrabugra-vonalat erősíti, mégis telitalálat, átkozottul erős refrén, hatalmas kórus, a "Bang you head or die!" sort pedig nem kevesen fogják ezentúl a koncerteken a csapattal együtt énekelni a dühöngőben… A magas színvonal azonban kissé alábbhagy a lemez második felére, mintha kissé megtörne a korong. Szokták mondani, hogy a kevesebb néha több, és én is ezt érzem a 'Beyond'-dal kapcsolatban. A második hetesből 3-4 dalt lazán le lehetett volna hagyni, A Dance off the Devil bugyuta "Afrikázása" például teljesen nem passzol a lemezre, a Colours of Freedom is abszolút töltelék, de egy-két ügyesebb pillanattól eltekintve általánosságban is úgy érzem, hogy kissé kifulladtak a srácok a korong második felére. Hála égnek azért nagy mellényúlás itt sincs, a dalok jók/elmennek, de nem kiemelkedőek. A Follow Your Heart vagy a Beyond Eternity például tökéletes recept bárkinek szomorúság ellen, a srácok hallhatóan csúcsra járatják a happy metalt.
Apropó, happy metal. Ha van valami, amivel meg lehet vádolni Chris Bayéket az új album kapcsán, az talán az, hogy ezúttal a "happy metal életérzést" talán már túlzásba vitték. A kezdetektől megbújt a csapat zenéjében a vidámság, de mostanra már sikerült olyan szinten átitatni majdnem az összes dalt szirupossággal és giccsbe hajló dallamfordulatokkal, hogy egy átlagos, sötét lelkű metalharcos gyomrát azért könnyen megfekheti a végeredmény.
Összegzés:
A Freedom Call az 'Eternity' óta legerősebb lemezét készítette el. A régi idők tempócentrikus power metalját idézik meg a 'Beyond'-dal, s noha az anyag a végére kissé ellaposodik, és helyenként a dalokban fellelhető vidámságkoncentráció túlzottan is magas, attól még ez egy igen kiváló album, mely büszkén indítja a 2014-re beígért europower feltámadást! Rajongók számára kötelező, és reméljük, a Sonata Arctica, az Edguy és a HammerFall is ilyen ügyesen nyúl majd vissza a gyökereihez.