'King of Rock n' Roll' - Ronnie James Dio Emlékest a Pecsában!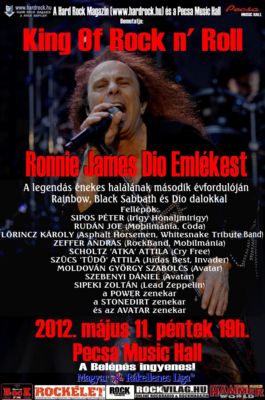 Örömmel jelentjük, hogy a nagysikerű IV. Budapesti Hard Rock Farsang után magazinunk ismét egy nagyszabású rendezvényre készül…
…Talán egy olyan rock- és metalzenét szerető ember sem él a világon, aki ne ismerné vagy ne szeretné a Rainbow és a Black Sabbath zenekar egykori énekesét, Ronnie James Dio-t. Május 11-én a Hard Rock Magazin (www.hardrock.hu) és a Pecsa Music Hall közös szervezésében, a két éve tragikus hirtelenséggel elhunyt zenészre emlékeznek magyar énekesek, zenészek és zenekarok. A 'King of Rock n' Roll – Ronnie James Dio Emlékest' elnevezésű rendezvényen a Power, a Stonedirt és az Avatar zenekarok mellett már biztosan ott lesz Sipos Péter (Irigy Hónaljmirigy), Rudán Joe (Mobilmánia, Coda), Lőrincz Károly (Asphalt Horsemen, Whitesnake Tribute Band), Zeffer András (RockBand, Mobilmánia), Scholtz 'Atka' Attila (Cry Free), Szűcs 'Tüdő' Attila (Judas Best, Invader), Moldován György Szabolcs (Avatar), Szebényi Dániel (Avatar) és Sipeki Zoltán (Lead Zeppelin). A koncerten Ronnie James Dio munkásságából szemezgetnek néhány dalt az előadók, így biztosan terítéken lesznek a Rainbow, a Black Sabbath és a DIO zenekarok legnagyobb slágerei. Mint ismeretes, Ronnie James Diot tragikus hirtelenséggel vitte el a gyilkos kór, így a szervezők és az előadók egyaránt ezzel a rendezvénnyel szeretnék felhívni a figyelmet a rákbetegség fenyegető veszélyeire! "Nagy örömünkre szolgál, hogy a koncert támogatói között üdvözölhetjük a Magyar Rákellenes Ligát, valamint Zeffer András személyében egy olyan muzsikust is, aki legyőzte a halálos kórt" – áll a szervezők közleményében. "Ezzel a koncerttel nemcsak egy kiváló muzsikusra és a nagyszerű emberre emlékezünk, hanem szeretnénk ténylegesen is tenni valamit az emberiséget egyre nagyobb számban sújtó betegséggel szemben. Köszönjük minden támogatónak, fellépőnek, hirdetőnek, sajtóorgánumnak és a Pecsa Music Hallnak a segítséget, hogy ezt az estét ingyenessé tudtuk tenni és így a jelen gazdasági helyzetben is sokan el tudnak majd jönni, hogy méltóképpen tudjuk ünnepelni a rock egyik kiemelkedő hangját! Szeretettel várunk mindenkit!"
'King of Rock and Roll - Ronnie James Dio Emlékest'
Rainbow, Black Sabbath és Dio dalokkal.
2012. május 11. péntek
Pecsa Music Hall 19h.
A BELÉPÉS INGYENES!
Kapcsolódó weboldalak:
A koncert Facebook oldala, ahol ismerőseidet is meghívhatod a koncertre: