Iron Fire: Voyage of the Damned
Borí­tó: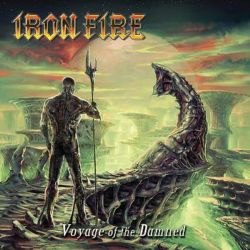 Zenészek:
Martin Steene - Ének
Kirk Backarach - Gitár
Martin Lund - Basszusgitár
Fritz Wagner - Dobok
Dalcí­mek:
01. The Dark Beyond
02. Enter Oblivion OJ-666
03. Taken
04. Slaughter Of Souls
05. Leviathan
06. The Final Odyssey
07. Ten Years In Space
08. Voyage Of The Damned
09. With Different Eyes
10. Dreams Of The Dead Moon
11. Verge To Collide
12. Realm Of Madness
13. Warmaster Of Chaos
Értékelés:
Mitévő legyen az egyszeri viking, ha kis bolygónk játszóvizei csordultig teltek, de a (vas)tűz még javában ég benne ahhoz, hogy csak úgy végleg lehorgonyozzon? Alap: kilövi magát az űrbe! Na jó, talán a galaxisok közti hajókázás sem a legeredetibb koncepció, de hát mit tegyek akkor, ha a Birodalom Visszavágon nevelkedtem, és mindenre gerjedek, ami fent játszódik a setét Univerzumban? Ennek köszönhetően a Gamma Ray 'Somewhere Out In Space' albuma rongyosra cafatolódott nálam, bár az is igaz, hogy a Steelwing kettes sorszámú izéje mindent hozott, csak űrhangulatot nem (amúgy Isten lássa lelkem, én bírom őket). Szóval nem elég azért fekete lyukakról meg csillagkapukról kajabálni, lehetőleg meg is kell alapozni ezt a space feelinget.
Melyik más műfaj lehetne erre a legalkalmasabb, mint a mi imádott power metalunk (az ám)? Hát ha még az meg van mixelve egy kis death-szel meg thrash-sel, akkor igazán jó mókát lehet kihozni belőle. Az Iron Fire… na itt álljunk meg egy ásónyomra! Ki tudná nekem összeszámolni, hogy hány olyan banda van a Föld kerekén, amely nevének kiválasztásakor úgy vélte, hogy az "iron" szó odabiggyesztése mekkora metalság már? Amúgy kétségtelenül az, de amíg az Iron Maiden és az Iron Mask esetében tapintani, az Iron Saviornél pedig legalább érezni lehet a kohéziót, addig az Iron Fire már csöppet erőltetettnek tűnhet. Szóval az Iron Fire hajóskapitánya, Martin Steene, és annak össze-vissza cserélődő legénysége mindig nagy hangsúlyt fektetett arra, hogy ökleiket jó magasra tartva és határozottan összeszorítva hirdessék a heavy metal lényegét. Érdemes egy pillantást vetni korábbi lemezeik fedlapjaira, és máris lehet visszafojtottan kuncogni, hogy nem csak a Manowar meg a HammerFall adott ki förmedvényes borítókat. Bezzeg idén már droidokkal meg vaskígyókkal rémkednek minket (hmm… nem is lenne rossz név egy bandának: Iron Serpent).
Most, hogy kellőképpen kiröhögtük magunkat a banda nevén meg a pátosszal telített előadásmódon – amely azért csillapodott az évek során – lessük meg, hogy mit is rejt a 'Voyage Of The Damned'! Ahogy mondottam volt, Steene-ék rákaptak az erőmetal különböző stílusokkal történő megbolondítására, bár azt azért nem lehet állítani, hogy a végeredmény kiszámíthatatlan és meglepetésekkel teli lenne. Már a 'Metalmorphosized' albumon (2010) is volt hörgés meg dörgés, de az összkép tökéletesen jellegtelen lett. Itt viszont együttes erővel zúg át a sztratoszférán az Amon Amarth és az In Flames, hogy egy-két dalban vendégeskedjenek, mialatt power metalba váltanak, és Steene már-már zavarba ejtően lágy hangján előadott refrénekben teljesednek ki.
Az album nem rövid, 13 energiával telt power nótát kapunk kicsivel több, mint egy órában, de a dánok nem engedték, hogy lankadjon a figyelmem. Nincs töltelék a 'Voyage Of The Damned'-en, legnagyobb rosszindulattal is csak töltelékszagú, és mindegyik megállja a helyét külön is; viszont egyszerre, egymás után érdemes meghallgatni őket, és befogadni ezt a zenei, de egyúttal filmszerű élményt. No de azért akad ám kedvenc a sok gyönyörűség között: a lüktető, Amon Amarth-os riffekkel megpakolt Slaughter Of Souls bombasztikus, ám nem túl bonyolult refrénje nagy pogókat fog majd kiváltani, az fix. Hasonló koncertfavorit lehet az Enter Oblivion OJ-666, amelyben az In Flames kap rá a speed metalra. A The Final Odyssey c. ballada pedig gyönyörű, filmszerű betétjeivel hódít, Steene főviking (vagyis már űrhajósparancsnok) pedig megmutatja űrzelmes oldalát is. Elindítom még egyszer, és közben nagyon remélem, hogy majd jól körbejárják az Univerzumot és belézereznek mindenkit metallal!
Összegzés:
Engem már eleve megfogtak ezzel az űrtémával, úgyhogy innentől kis túlzással akármit pakolhattak volna alá-fölé-köré, kajáltam volna… de szerencsére Steene-ék egy karakteres dalokkal, de nem túl bonyolult szövegvilággal büszkélkedő albumot toltak be az amúgy sem fércművekkel teli diszkográfiába. Jár a nyolc és feles, sőt, még egy képzeletbeli csillagocska is.