Wolf: Legions of Bastards
Borí­tó: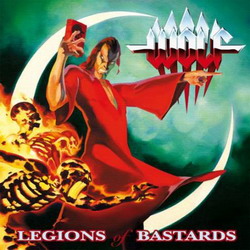 Zenészek:
Niklas StíĽlvind- ének, gitár
Johannes Axeman- gitár, háttérvokál
Anders Modd- basszusgitár
Richard Holmgren- dobok
Dalcí­mek:
1. Vicious Companions
2. Skull Crusher
3. Full Moon Possession
4. Jekyll & Hyde
5. Absinthe
6. Tales From The Crypt
7. Nocturnal Rites
8. Road To Hell
9. False Preacher
10. Hope To Die
11. K-141 Kursk
Értékelés:
Elérkezett hát a Wolf hatodik albuma. Tizenegy éve jelent meg a csapat első korongja, így mára a farkasfalka tekintélyes múltra tekint vissza. Igazi nosztalgia-metal csapatról van szó, akik rendületlenül próbálják interpretálni a lassan harminc évvel ezelőtti idők hangulatát a modern világban. Általában az ilyen vállalkozások már megszületésükkor kudarcra vannak ítélve, de a Wolf azon kevés együttes között van, ami jó régészként sikerrel tisztítja meg üledéktől a '80-as évek zenéjének fosszíliáit. Tehát ez a csapat elég frankó kis bulit szolgáltat mindazoknak, akik még romantikus érzelmeket táplálnak a régmúlt iránt.
Mit is várhatnánk igazából egy ilyen múltidézéstől? Sokan persze legyintenének vagy fitymáló megjegyzéseket tennének, de avatott szakemberek azonnal tudják, hogy korai még temetni a műfajt, hisz anno szájtátva, kigúvadt szemekkel bámultuk a lejátszónkat hallva az Accept és az Anvil új lemezeit, mert nem hittük el, hogy a XXI. században ilyenre még képes lehet metal banda. Én azt mondom, hogy a 'Legions of Bastards' is követi ezt a sort, habár azonnal hozzáteszem, hogy jóval szerényebb módon, mint a fent említett két csapat.
Természetesen nincs finomkodás a lemezen, hardcore heavy metal orgiára számíthat, aki belehallgat. Igazi klasszikus futamok, kemény riffek, fogós refrének jellemzik az albumot. Egyszerűségében nagyszerű, ha lehet ezt az elcsépelt mondatot ma még bármire is rásütni. Hangulatában egyértelműen a Judas Priest érett korszakát idézi meg egy kis Mercyful Fate-tel a tetején, amelynek ékes bizonyítéka a Vicious Companions, vagy a Skull Crusher. Utóbbit szinte azonnal rá is tehetnék bonus track-ként a 'Painkiller' végére. Más számok, mint a Jekyll & Hydeés a Full Moon Posession pedig egyértelműen idézik meg az Iron Maiden gitárfutamait és hangulatát. Nehezen hiszem, hogy a klasszikus metal rajongói ne éreznék magukat otthon ilyen környezetben. A Wolf a 'Legions'-on, dacára a nosztalgikus felhangnak, egyáltalában nem válik unalmassá vagy önismétlővé. Míg más banda már rég a dekadencia bűzlő lápjában fetrengene reménytelenül, farkasunknak sikerült elkerülni ezt a végzetet. Miért? Bár a számok összességében nem igazán eredetiek, de jól lettek kombinálva, és a svéd metalfejek a számok megírása közben egyszer sem estek a túlzás hibájába. A dallamok egyszerűek, a hangzás erős, a hangszeres munka pedig hangulatot teremt. Innentől kezdve már teljesen mindegy, hogy az effajta "piperék" mögött valójában csak egy harminc éve megfáradt vénember totyog. A hatás a lényeg, és ezt a Wolf elérte. Azért azt sem ajánlom, hogy mélyebbe utánagondoljunk a számoknak, mert könnyedén jutunk fejvakargatásra, és homlokráncolásra. Élvezzük azt, amiben a 'Legions of Bastards' igazán jó: az önfeledt szórakoztatásban. Kell ennél több?
Ha már megemlítettem a metal egyik ősatyjának számító Judas Priest-et, akkor kell ugye egy Halford szintű énekespacsírta is. Nos, esetünkben ez adott Niklas Stalvind személyében. Ha lehet a mélyen tisztelt Rob bácsinál is gonoszabban ejti ki a zenéje által generált szavakat, bár a nagy elődnél szerintem kevésbé jellegzetesen. A magasakat hozza, a mélyek mondjuk rendben vannak, így tökéletesen megállja a helyét ebben a zenei közegben. A többi zenésztárs hozza az elvárható formát. Nagyon nem lehet mit írni róluk, mert a lemez egyértelmű főszereplője Niklas barátunk, az ő gonosz sikolyait támogatja az egész hangszeres szekció.
Összességében szerethető az új Wolf lemez. Nem hinném, hogy sokkal többet adna, mint a régebbiek, de egy ilyen csapatnak már az is elég, ha semmi rosszat nem tudunk írni róla. Dacára a borzalmas borítónak jófajta heavy metal mókának néz elébe, aki nekiül. Meglepetés még mindig nincs a csapat részéről, de láthatunk egy több mint egy évtizedes, nagyobb bakikat elkerülő karriert. Minden tiszteletet megérdemelnek!
Összegzés:
Döngő riffelős, zakatolós, keménykedős lemez. Felépíti, és szégyentelenül megmutatja mindazt a jót, ami miatt a heavy metalt szeretjük. A 'Legions of Bastards' nem vállal semmiféle kockázatot, emiatt nem is nagyon vét hibát, de éppen ezért nem is túl izgalmas. Bár sokat nem kell gondolkodni ezen a zenén. Hallgatni kell, és kész. Úgyis magával ragad a nosztalgia-faktor, ne rontsuk hát el felesleges okoskodással!