Bai Bang: Are You Ready
Borí­tó: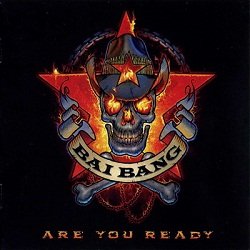 Weblap:
http://www.myspace.com/baibang
Zenészek:
Diddi Kastenholt - ének
Pelle Eliaz - gitár
Joacim Sandin - basszusgitár
Jonas Langebro - ütősök
Dalcí­mek:
01. I Love The Things You Hate
02. Born To Rock
03. Party Queen
04. Are You Ready I'm Ready
05. Only The Best Die Young
06. We Come Alive
07. Longtime Cumin
08. Bad Boys
09. All The Little Things
10. Bigtime Party
Értékelés:
Az 1988-ban alakult svéd Bai Bang gárda tavaly készí­tette el ötödik stúdiólemezét. Na, igen, ők sem vitték túlzásba a dalszerzést. Talán ennek köszönhető az, hogy manapság nagyjából annyira ismertek ők, mint a Britny Fox... Ha tehát valakinek nem ismerős a nevük, nem kell kétségbe esni, tényleg egy alapvetően másodvonalbeli zenekarról van szó, ami azonban méltó a származásához.
A Skandináv térséget manapság előszeretettel azonosí­tják a metallal, révén innen származik az a mitológiai világ, ami számos keményzenét játszó banda témáit adja - és akkor még nem is szóltunk a térség zenekarairól. De az északi emberek a hard rock-ban és az AOR-ban is rettentően otthon vannak, hisz a tavalyi északi megjelenések közül ez már a sokadik olyan puha album volt, ami igazán elnyerte a tetszésemet.
Leginkább azért, mert a Bai Bang albuma gyakorlatilag azt mutatja meg, milyen zenét is kéne nyomnia manapság azoknak az amerikai bandáknak, akik a 80-as években élték fénykorukat. Itt elsősorban a Poison-ra, Ratt-re és a többi glam bandára gondolok, a Bai Bang ugyanis az ő hagyományaikat öltözteti modern ruhába.
A zene tehát hard rock, amin erősen érződnek glam-es behatások. Jogos volna a csapatot a Wig Wam-hez hasonlí­tani, vagy esetleg belelátni egy kis Def Leppard-ot (utóbbit főleg a vokálok miatt). Rögtön az első szám (I Love The Things You Hate) is ilyen, fülbemászó és hiperdallamos, mindazonáltal érezni rajta azt az erőt, amit manapság a legtöbb hasonló stí­lusú banda már nem tud belecsempészni a hangzásába. Ez a nóta konkrétan akár a 80-as évek közepén is megszülethetett volna, és bizonyosan hülyére játszott sláger lett volna belőle...
A Born To Rock keményebb dió, igazából hússzor jobb dal, számomra az album abszolút csúcspontja. Torz gitártémája nagyon hamar meghódí­tja az embert, és akkor még ott van maga a dal témája - a rock 'n' roll. Sajnálom, hogy csak három perc hosszú, simán tudnám még hallgatni egy ideig.
A Party Queen viszi tovább az első dal által megkezdett retro-s, de mégis eredetinek ható utat. A dal kezdőtaktusáról nekem a Mötley Crüe ugrott be - ez a dal is simán szerepelhetne akár a Girls Girls Girls-ön. Az Are You Ready I'm Ready alá közönséghangokat kevertek, amitől kimondottan közérthetővé válik a dal... képzelem, milyen lehet ezzel a nótával nyitni egy koncertet!
Az Only The Best Die Young képében végre kapunk egy balladát is, hogy egy kicsit változatosabb legyen az egész album, de a glam-es, retro-s életérzést ez a dal sem töri meg, simán hozza a 80-as éveket. Vendégszereplőnk is van a dalban, méghozzá Ryan Roxie személyében, aki a gitárszólót játszotta fel a nótához. Ő egyébként Alice Cooper egykori bárdistája, nem mellesleg pedig Slash mellett is megfordult a 90-es évek közepén.
A We Come Alive engem valahogy nem győzött meg, de igazából ezzel az egy dallal volt csak gondom az egész albumon. Itt éreztem úgy először, mintha töltelékdalba futottam volna, pedig a fennkölt vokálokból itt sincs hiány - ha figyeljük a vokálokat, itt érhetjük nyomon a leginkább a Def Leppard hatást. A Longtime Cumin' személyében megint a Mötley-érzés vesz rajtunk erőt, még az univerzális angol káromkodás is helyet kapott a szövegben.
A Bad Boys-ra megint csak azt tudom mondani, hogy tiszta 80-as évek. Egy hajzuhatagos, szétsminkelt arcú, szí­nes maskarákban és bőrökben ugráló zenekart juttat az eszembe. Az All The Little Things szintén, bár itt megint egy balladával van dolgunk, megint csak Def Leppard-os beütéssel. A Bigtime Party aztán lezárja az albumot, és megkí­nál még egy kis glam-mel... én meg csak csóválom a fejem, milyen kár, hogy vége - egyáltalán nem hosszú a lemez, mindössze 33 perc.
Az a fura ebben a lemezben, hogy bár javarészt tényleg a majd 20-30 évvel ezelőtt divatos dolgokból táplálkozik, mégis megújult erővel tud hatni az emberre. Tudom, hogy sokan nem szeretik az ilyesmit, szerintem viszont vannak olyan témák, amiket sosem lehet elégszer lerágni. Hogy a Bai Bang titka a jó receptekben, vagy a kreativitásban rejlik-e igazán, azt nem tudom, ellenben sikerült meggyőzniük, és ez már bőven elég. Ha nem is az év lemeze, az egyik potenciális kedvenc lehet 2009-ből, ami igazán megér még néhány folytatást.
Összegzés:
Vérbeli hard rock, megfűszerezve a 80-as évek glamjével - nehéz elrontani, és a Bai Bang sikeresen teljesí­tette a kitűzött célt. Egészen nagyszerű lemezt raktak le az asztalra, ami ugyan nem lesz világmegváltó, de a régi nagy kedvencek albumai mellé simán oda lehet tenni. Aki csí­pte a hajbandákat, az hallgassa meg legalább egyszer a lemezt!